During our time in Detroit, we were privileged to meet a number of Israeli families who we've kept in touch with since. Once of those families, the Tzobels (Assi, Sharon and kids), served as members of the
Kollel Torah MiTzion
based in West Bloomfield, but would come to Oak Park for shul programs and activities. Assi loved acting and theater, so when a fellow rabbi shared the idea on a rabbinic email list to do an "interview" with a major historic figure, I turned to Assi. He loved the idea, and we decided to invite "Rashi" on his 900th yahrtzeit to our shul for a visit.
Everything was planned carefully. Michelle Sider, - a shul member who's also an artist - studied the types of clothes Rashi might have worn and drew the picture in our flyer. We researched Rashi's biography and developed a script. I gave a shiur on Rashi's commentary on Chumash Friday night. We even had a
screening of a video for kids about Rashi
planned. Everything was all set for Shabbat morning, when Rashi would "visit" and I would interview him instead of the usual Shabbat morning drashah. We planned a Rashi inspired kiddush too. And then it snowed Friday night. About a foot and a half.
A small number of people came to shul, I think, because they felt bad for me, which was fine with me. But the shul was pretty empty, understandably. It was a tough walk to shul that morning in the snow. But Rashi (Assi) came, and he was really, really great. Assi really embraced the role, French accent and all. He was so good that he did the program for the students at Akiva.
Fast forward a couple years. Assi returned to Israel and decided to enter film full-time. He enrolled in the Ma'aleh film school in Jerusalem. While there, he was approached about producing a children's program (and writing the scripts) that would appear on the website of a yeshiva called
Machon Meir
. Machon Meir is well-known in Israel as a welcoming, open-minded, Religious Zionist Israeli kiruv yeshiva. Visit there are you're likely to hear shiurim in Hebrew (of course), but also in
English
, French and Russian. Machon Meir's founder, Rav Begun, recognized that if the religious community really wants to reach people "where they are", the best way to reach them was in their homes, via the internet, on their computers. Yet, instead of talking heads giving classes and lectures, he wanted scripted television programs.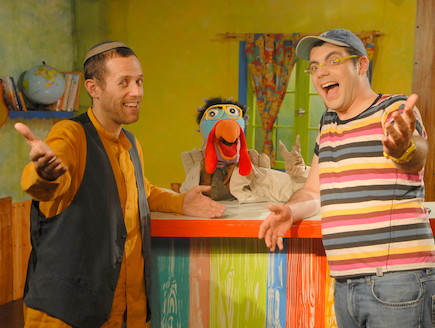 Tuvia, Polke and Assi
In a relatively short period of time, Assi was starring in the program called "Assi and Tuvi" (and their friend Polka - a puppet chicken) readily available on the Internet. Today, after years of shows, 700 episodes of Assi and Tuvi have covered every imaginable topic, offering young children an endless stream of commercial-free shows.
Machon Meir's kids website
has 10,000 (ten thousand) subscribers, who pay for access the Machon Meir's archive of programming. (Sadly, there's no English language programming to speak of, other than a few dubbed episodes. Proper English language episodes would require writing new scripts and staging them with native English-speaking actors.)
I didn't realize the degree of Assi's stardom until his family visited us for Shabbat. As we walked around Yad Binyamin, kids would stare from a distance, as in, "That's Assi!" Kids approached my children, awestruck, asking them, "Assi is staying at your HOUSE?" We reached a new level of Religious-Zionist eight-year-old coolness that weekend. He really is a household name in our community, and does events over the holidays, as well as private parties (for a fee, of course).
The Tzobel family with the Spolters after Shabbat
Yet, Assi's not stopping just with a kids show on the web. Rav Begun has recognized that most secular Israelis aren't watching TV over their computers. Rather, he needs to bring his programming to their living rooms, and has recently announced the launch of HOT Channel 96 - Machon Meir's own cable TV channel. It's an amazingly expensive proposition, but if it succeeds, the channel could have a long-term positive effect on Israel's broader public.
Assi's quite busy now: as Director of Children's Programming for the television network, he's developing a number of different children's series while still filming new episodes of Assi and Tuvia. If you haven't heard of it him, one day soon, you will.